how to find a lost dog with tractive
Track your pet in real time never worry about losing your pup again
How To Find A Lost Dog.
Tractive GPS Pet Tracker is an Australian-based company that specializes in pet wearables and pet related items. So lets talk about the best ways to find a lost dog. In this article Lets check over its accuracy reliability usability and affordability .
The Tractive Pet Tracker has been created to give you a complete piece of mine when it comes to locating your dog your cat. Day or night and this is not like what you can find at Walmart and running. I've have been misleed in the past this is the real deal. 
How it works
Tractive GPS is a really handy Gadget to have. When it comes to how to find a lost dog this is it. Comes in the form of a tracker unit that communicates location information. Tractive GPS app what you can access on any device Apple, Android even your PC. The tracker allows you to define a search Zone within your pet can move around and it will send out notifications when your pet stepped outside this range. Once you receive the notification you can start tracking your pet in the live tracking mode you received it.
 Pets location information in real-time with data refresh immediately if the live tracking mode is not on the location update. Frequency depends on your pets level of activity and information does not updated in real-time. However when tracking your pet you follow the map provided in the app you can view your location as well as your your pets. Tractive GPS high accuracy and update speed you should be able to locate your pet in a matter of no time. The tracker uses cellular GPS and works in both United States and abroad. In the US it operates on 4 different cell tower networks including AT&T ,T-Mobile the tracter does have its own SIM card. It doesn't matter which mobile service provider you use on the device you are using. 
Tractive Design
Tractive GPS comes in 3 attractive versions they're very small compact. The smallest one weighs approximately 1.23 Oz or 35 G the device fits most collars. And has collar Clips as provided in the package you can opt different versions. With blue Tractive logo The Hunters Edition with a black olive camouflage pattern and a pink version with a white logo. And like I said the device is super small and lightweight so your pet should have no trouble getting used to it. However it's important to note recommended pet sizes if your pet weighs more than 44 lbs. You should go for Tractive GPS XL which possesses the same key features as the rest of them but it's somewhat larger. It's about 5 oz and has a longer battery life also up to 6 weeks.
Battery information
The app will also give you an updated battery status. Reminding you when the battery is getting low which is a very nice feature.
 Water And Swim Proof
This device has a good rating of ipx7. Which means that it's not only water-resistant It can be under water up to three feet for up to 30 minutes. So if your pet likes the water and likes to go swimming this device will work wonders for you with no worries.
 Shockproof
This device is durable and resistant to impact. According to the manufacturer it is almost indestructible. 
 The rechargeable battery 
The average battery life is 2 to 5 days with normal use but will significantly decrease when live tracking is on. You can still expect roughly 8 hours on a full charge in the live tracking mode .For how accurate and efficient this device is you should never need 8 hours to track your pet. So that takes some of the worry out the battery going dead.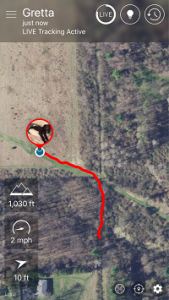 Summary On How To Find A Lost Dog
Tractive pet tracking is a very good product it's reasonable priced. It's very durable because as a pet owner myself I know pets are very hard on stuff. It will take the abuse that your pup will put it through. There are other tracking systems out there that are a lot more expensive. They only have a few more features, for the price this is going to be the best quality. And the Best Buy you're going to find.